Exclusive Interview (Rock Arrangement, #1)
An impromptu improvisation…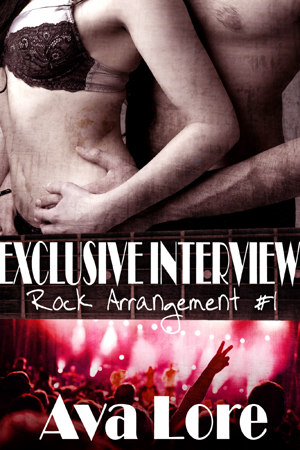 Chronic loser Rebecca Alton is penniless, homeless, and sleeping on her sister's couch. She needs a job, fast, but in this economy finding one is easier said than done. When she accidentally walks into the wrong office and finds herself auditioning for the role of babysitter to the out-of-control members of the up and coming rock band The Lonely Kings of Lifeless Things, can she pull it off? And considering who her boss would be–the band's bassist, manager, and undisputed king of bad attitudes Kent Hudson–would she even want the job? Rebecca isn't sure. In fact, she's not sure of much in her life, except one thing: Kent wants her, she wants him back, and the underlying animal attraction between them makes her interview rough, in more ways than one!
Exclusive Interview is a 19,200 word novelette, and is the first in the Rock Arrangement series!
Only $0.99 at these major retailers:
A note from Ava: To my everlasting shame, this book was published with several typos on the very first page. ALAS. So if you have already purchased it, you can most likely get an updated copy from the storefront where you bought it (although B&N might not go through for a couple days). ANYWAY. This is a fun story to write. Rebecca makes me smile, and Kent evolved into an Alpha Male Extraordinaire, so please enjoy the first installment of Rock Arrangement. It promises to be good, trashy fun, just like any good rock romance should be.
Excerpt:
But he shook his head. "Never mind. Just a stray thought." He cleared his throat and gunned the engine again. I felt my blood rise in response to the raw expression of power. His long fingers wrapped around the stick shift and moved the car into high gear. He wore silver rings on most of his fingers, and the tattoos on his wrists were bright flashes of color against his monochrome businessman's uniform. I swallowed and forced myself to look at the road. An exit sign for LAX was coming up. How was it that we were already here? "You say you think you can handle this job?" he said suddenly. "What? Oh. Yeah, I bet I can. I worked as a bartender for years and I hung out with some people that were basically walking drama bombs. They all went off like clockwork, too." "I see," he said, but he sounded as though he didn't believe me. Suddenly he reached forward and turned on the radio player. It roared to life, right in the middle of a song I recognized. High, beautiful vocals soared over a hard, grinding beat. 'You came from nothing, nothing came to me, I missed your face as we passed by, in the boundless dark of the sky…' "A Dark Moment," one of the singles off the first album by The Lonely Kings. I recognized it because it wouldn't stop playing everywhere. Then Kent Hudson put his hand on my thigh and all my thoughts flew out the window. Everything in the world funneled down to that hand. It was huge and warm, splayed across my raggedy jeans, the heat of his palm leaking through the denim and spreading across my skin. He hadn't even bothered to put his hand on my knee. Instead he'd left it on the inside of my leg, mere inches from my suddenly red-hot pussy. My mouth went dry and my body was suddenly paralyzed. What the hell does he think he's doing? my brain demanded. My body, of course, didn't care what it was he thought he was doing as long as he kept doing it. The car swerved off the road and down the exit ramp as Kent Hudson slipped his fingers down the swell of my thigh to the hot valley between my legs. I tensed, clamping my legs together, and he chuckled over the pounding din of the music. "You see?" he said. "Anything can and will happen to you in this industry. You will be expected to rise to meet the occasion each time." But what occasion did he want me to rise to? I wondered. The occasion where a top man in the music industry made an unwanted advance on me, or the occasion where that advance was very much wanted?…