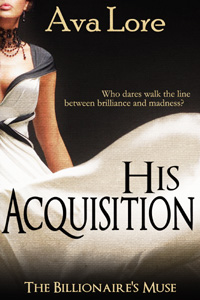 His Acquisition: The Billionaire's Muse, Part 1, coming December 21st!
And I don't know about you guys, but I'm psyched. I'm thoroughly enjoying 
The Billionaire's Muse, 
and I hope you guys do, too. Here's the blurb, still a bit of a work in progress, but you get the idea:
Artist Sadie MacElroy has landed a sweet gig as the personal assistant to her best friend, Felicia Waters. Despite her scattershot creative nature, she's a whiz at organizing, planning, and ordering people around. But her sweet gig turns sour at a charity art auction she's organized when she bumps into a stage lackey and sends a 17th century Qing Dynasty vase crashing to the ground. Electing to take the fall, Sadie attempts to arrange payment of the vase to its owner, eccentric billionaire and amateur artist Malcolm Ward. But Malcolm doesn't care about the money or the vase; he only wants Sadie, any way he can have her. In front of his camera, under his brush… or in his bed.
Malcolm rules. I think I managed to create a great foil for Sadie in him. And now… to the keyboard!