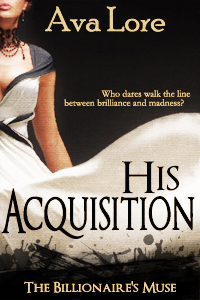 Artist Sadie MacElroy has landed a sweet gig as the personal assistant to her best friend, Felicia Waters. Despite her scattershot creative nature, she's a whiz at organizing, planning, and ordering people around. But her sweet gig turns sour at a charity art auction she's organized when she bumps into a stage lackey and sends a 17th century Qing Dynasty vase crashing to the ground. Electing to take the fall, Sadie attempts to arrange payment of the vase to its owner, eccentric billionaire and (extremely) amateur artist Malcolm Ward. But Malcolm doesn't care about the money or the vase; inspired by Sadie, he decides he only wants her, any way he can have her. In front of his camera, under his brush… or in his bed.
His Acquisition is a 16,300 word novelette. Part one of five in The Billionaire's Muse series.
It's out! And a day early (mostly!) A slow burn, but certain to heat up quickly in the next installment. I hope you guys enjoy it. Thank you for all your support!
Buy on Amazon
Buy on Barnes &
Noble
Buy on Kobo
Buy on All Romance eBooks
Buy on Smashwords
"Oh yes. I knew from the moment I saw you from across the ballroom that I wanted to paint you. Or take your picture. Or perhaps sculpt you…" He took a step closer, and my hands tightened on the bar stool. He was so tall, and I caught a whiff of a very masculine scent underneath his aftershave. The hard muscles of his body filled out his tux, and I found myself praying that he was telling the truth, because if he tried to kill me I'd be no match for a barrel chest and biceps like the ones he was sporting… "Wow," I said. "You, uh, work in a lot of mediums.""I'm quite versatile," he assured me. "And that is what I have planned for our date. Or rather, for our several dates." I scowled. "Excuse me? I never said anything about several dates." He raised his eyebrows. "Oh? Well, I paid nine thousand dollars for you. I feel that I have procured your services as a model, or perhaps I should say as an inspiration, for as long as it takes to complete one masterpiece featuring you." For an artist, this guy sure talked oddly about it. "I… I suppose we should see how it goes," I said cautiously. Nine thousand dollars weighed pretty heavily on my conscience, but I wasn't about to let him see that. "Let's stick with one and if I'm comfortable with you, then we can maybe negotiate more." "A woman who drives a bargain," Ward said. "I like that. I knew you were different just looking at you." "Yeah," I said. "I bet you did." He gave me a strange look and I shook my head. "Okay, fine. But here's the deal. No nudity unless we discuss things first. I won't have you doing that creepy thing some male photographers do when they say, 'oh, just take a little more off, show me some nipple,' because that is gross and we are both professionals." I caught myself. "Well, I am, at least." "I'm professional in many things," Ward interjected, sounding almost hurt. "Uh-huh," I said. "Well, since you yourself said you're an amateur, you'd better read up on the rules of engagement first." In the dim light, I saw his eyes gleam and harden. He seemed to think I was presenting a challenge to him rather than giving him the benefit of the doubt and kindly instructing him on how civilized people behaved toward each other in situations such as these. "Hey," I snapped. "I'm not joking around here. This is how professionals behave." "Of course," he said smoothly. "And I vow I shall behave quite professionally." From the depths of his jacket he produced a white card and held it out to me, pinched between two elegant fingers. Gingerly I reached out and took it, trying to ignore the sudden dark hum of my blood in my veins when our fingertips brushed together. I ripped the card from his grip as I snatched my hand away. His eyes glittered down at me, but he said nothing about my reaction. "My home address and phone number," he said instead. "Are you available tomorrow afternoon?"…