Exclusive Contract (Rock Arrangement, #2)
A tentative harmony…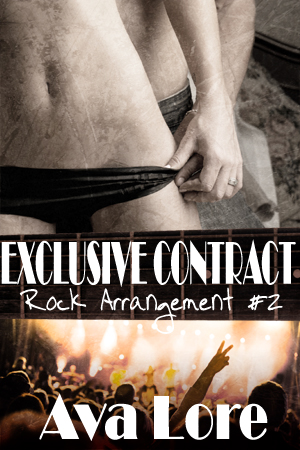 Rebecca is determined to do a good job as the babysitter (and fake girlfriend) of troubled rock star Carter Hudson, but before the ink is even dry on her contract her charge is slipping out of her control. She could regain it– if she could keep her hands off of Kent, her new boss and Carter's brother. Too bad something about him attracts her the way no man ever has… "Exclusive Contract" is 19,200 words and is the second installment of the serial novel 
Rock Arrangement.
Only $2.99! Available now at these major retailers:
Amazon
Barnes & Noble
Kobo Books
All Romance eBooks
Smashwords
A note from Ava: 
Aaaaah, this one gave me some trouble, so I'm sorry for the lateness of it! I'm trying to cram this story into four installments instead of five, so please look forward to the next book at the end of April!
Excerpt:
The tension in the room finally eased and the rest of the band set about setting up. It was pure torture, but I didn't even glance at Kent. Instead I kept my eyes on Carter the whole time. He looked mildly disappointed that I had refused to enable his alcohol habit, but that couldn't really be helped. He knew as well as I did that I was supposed to look after him.
I watched as he pulled his guitar off its stand and looped the strap over his head before sitting down and plugging it into the amp next to his chair. The crackle of static scraped over my ears, and then, with a few deft plucks of his fingers, Carter made the guitar sing. Oh, I thought. Yes. This is music. A cascade of notes leaped from the strings, dancing through the wires to the amp, booming through the small room. At once Manny sat up in his chair, his whole body straightening, his drumsticks suddenly standing at the ready, poised to crash into the tight skins in front of him. At her seat in front of the keyboard, Sonya stubbed her cigarette out, took one last gulp of her drink—wincing and making me think that it certainly was not water at all—then settled her hands on the keys. With a ripple of her fingers, a sweet, unfamiliar melody flowed out. Then Kent switched his amplifier on, put his fingers on the strings of his bass, and plucked out a low, thrumming beat. My breath left me. The rhythm hummed and pulsed, resonating in my chest and stomach, rattling my heart in the cage of my ribs. I felt it, deep inside me, pounding through the soles of my feet where I stood. I felt the vibrations in the backs of my legs, shaking my bones. My mouth went dry and without thinking I sank to the floor, settling in to listen. There weren't any other chairs anyway, of course, but I didn't mind. With my ass on the carpet, I could feel the hard, driving rhythm Kent had found, and it took all my willpower to not lick my lips and close my eyes and squirm where I sat. Even so, his music hummed deep inside my core…