Mating the Beast (Project Loup Garou, #2)
Will she finally find release in the arms of a captive beast?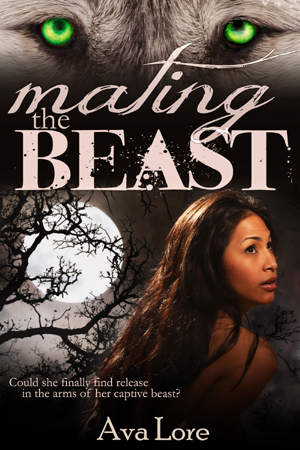 Captured and mutated, his memories of his past wiped away, Subject Number One clings only to the scent of his fated mate, caught only in whiffs in the facility where he and his wolf brothers are held prisoner. If he could only reach her, touch her, he could complete the mating bond and escape. But who would mate with a monster? Wracked with guilt, Dr. Michelle Dimaano swallows her loathing for her job and her employers and the terrible things they do in the facility where she works. She's free to leave, but at the cost of her memory. The only thing she lives for is the overwhelming curiosity she holds towards the magnetic wolfman, Subject Number One. However, when she gets a little too close to him, he hurts her. Can she overcome her fear and choose a life of danger and her fated werewolf mate, or will she go back to the world of men and leave her monstrous lover behind? Mating the Beast is a 36,000 word stand-alone novella featuring a cool, collected beast, a trapped beauty, knotting, monster sex, and the defloration of a virgin! It is the second in the Project Loup Garou series.
Only $3.99! Available at these major retailers:
Amazon
Barnes & Noble
Kobo Books
All Romance eBooks
Smashwords
Excerpt: Her hand stilled. "Mate," she said. "You need to mate again so the blood works. You said that, didn't you? Mate again, give blood, get blood." One held perfectly motionless under her hand. Had she truly remembered that? In the dimness of twilight, her face was thoughtful. Then she leaned forward and kissed him on the high dome of his canine forehead. Subject Number One came apart. The sweet grace of her touch moved through him, reviving him, and he whined again as she moved forward, plastering her body against his. "Turn over," she said. "Mate with me." He did so. His body was now almost entirely wolf, ungainly, weird and alien, and yet she moved her hand over it as she might for any human lover. Blissful heat radiated from her touch as she smoothed her palm down over his still-human chest, stroked his stomach, then moved her hand to his cock, already hardening in anticipation. Gently she moved its sheath back, exposing the firm pink flesh beneath the fur to her gaze, and he panted with arousal when she didn't even flinch. His arms were useless to hold her, his hand now just paws, but his spine bent and bowed like any male's would as she lowered her head and put her mouth to his cock.