Hard Rock Improv (The Lonely Kings, #3)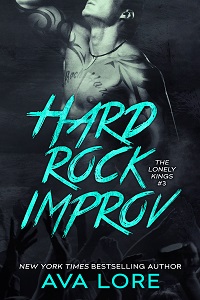 Rose Alton had her future all planned out: excel at her career, find love, make a family and get rich. Then she got fired. Now after years of 90-hour work weeks she's living out of her car and struggling to hold it together. Convinced she'll turn it around any day now, keeping up appearances is her highest priority, but when Manny Reyes, her sister's friend and drummer of the band The Lonely Kings, discovers her deception her secret is out… or so she thinks. To her surprise, Manny offers to keep her secret and invites her to Kauai, where he grew up and where the band is shooting their latest video. Rose hates to be anyone's charity case, but with nowhere else to go and needing a vacation she reluctantly accepts and is whisked away to the island paradise. Rose soon discovers Manny isn't like anyone she has ever met, rock star or not, Instead of preferring lavish hotels, fine dining, and parties until the break of dawn, when not on the set Manny prefers eating Spam, playing for change, and smoking out with the local hobos on the beach. But there's a dark secret lurking on the island, one that plagues Manny, even when he's on the other side of the ocean. As the heat between Rose and Manny builds, Rose begins to realize that there are some times when you need to break the rules…and that the only thing you can't plan for is falling in love…
Available Now for $2.99 at these major retailers:
Amazon
Barnes & Noble
Kobo Books
All Romance eBooks
A note from Ava: 
Rumors of my death have been greatly exaggerated. I think. Sorry for the long wait, and please enjoy what turned out to be the longest
 Lonely Kings
 novel yet! If you like it, leave a review on Amazon to help other people discover 
The Lonely Kings! 
Sonya's story is up next…and it's a doozy. 😉 Best,
Ava