Exclusive Access (Rock Arrangement, #3)
A counter melody, a discordant note…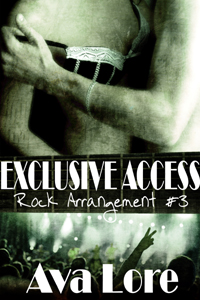 It's been a month since Rebecca took the job as babysitter to a rock star, and it hasn't been easy, but when Carter and Rebecca finally let down their guards and become friends, Carter takes it upon himself to match-make. Can Rebecca keep her interest in Kent under wraps with everyone watching, or will their chemistry explode into scandal?
"Exclusive Access" 33,000 words and is the third installment in the serial novel, Rock Arrangement.
Only $2.99! Available now at these major retailers:
A Note from Ava: This novel is just pure fluff and fun, damn. I love it. I hope you do, too. 🙂
Excerpt:
He took my breath away. The wind tossed his hair and the darkness of the smudged kohl set off his vivid eyes—the exact same color of the ocean. I wanted to fall into them. I wanted to stand on my tiptoes and fall into him.
"Good, good," the director was saying, somewhere far away, and from the corner of my eyes I saw lights and reflectors and cameras, all centered on us, but none of it mattered. I barely even registered their presence.
Kent stared down at me, and I saw hunger in his eyes, suffering… and a terrible tenderness.
Reaching up, he stroked my cheek with the back of his hand, his eyes searching mine, and I was struck by the realization that the animal attraction between us could be more. Much, much more.
He cared about me. He relied on me. He trusted me.
He wanted me.
I mean, that's a lot to infer from a single look… but I felt it. I knew it in my bones.
Then he reached out and put his arms around me, drawing me close. I fell into his warmth, reveling in it. He smelled good, like soap and leather, and his hands tangled in my hair as he tilted my head to the side. His lips grazed my ear.
"Hello, Rebecca," he said, low enough that I knew I was the only one who could hear it. "Ready to make out with your boyfriend's brother?"